Our Story
In April of 2014, Todd VanDuzer, co-founder and CEO of Desert Canvas, decided he wanted to learn how to slackline. So he went to a park with a friend and set up a slackline between two trees.  Week after week he returned to the same park inviting others to join. 
Little did he know, this was the start of a movement.
A couple months later, Paulina Milligan found the meet up through the Facebook group "slackling & socializing" that Todd had created. She joined and quickly took a leading role in the community along with bringing her expert performance skills. 
About a year later Todd decided to host a small party with his good friend Will Curran that involved rock climbing, camping, and DJ's in the middle of nowhere. Munduzer music, arts, and adventure festival was born. 
After this successful event Todd realized that is lifelong dream to throw festivals that helped individuals step outside their comfort zones to live happier and healthier lives was possible. However, he knew he could not do it himself so he contacted his good friend Caitlin MacMurtrie to join in and help. 
Together the co-founders Todd, Caitlin, and Paulina created the framework for Desert Canvas.
6 months later Vladimir Madorsky, Sara Joy Tiberio, and Amanda Larner joined the team followed by so many other Desert Canvas community members, interns, and volunteers! 

Our Core Values Include:
Co-Creation: We believe nothing is done on your own. Everything is co-created. The sooner you accept that you can't do everything on your own, the better off you'll be. 
Reciprocation: We believe in the "Heck Yes" on both ends mentality. One person does not have to be getting out ahead. You can both win! 
Fun / Adventure: We see life as full of options, and we live in excitement knowing that our lives are always changing.
Authenticity: We are an organization that accepts all cultures, values, and differences. We think for ourselves, and we are genuinely interested in what others have to say.
Passion: We are filled with a constant desire to improve ourselves by doing the things we love, no matter if they are against the status quo. We never settle.
Goals: We believe that happiness lies in the pursuit of worthwhile goals. It is our goal to help you discover more passions and reach far greater goals!
Sustainability: We respect our environment, and we do our best to ensure that humans and nature can co-exist.
Desert Canvas is the facilitator in helping influencers, businesses, and organizations in each city grow
Every week Desert Canvas supports local communities by helping others become more aware of their organization and/or movements by bringing hundreds of members to their businesses every week and sharing their organization on our media channels. 
Once per month Desert Canvas host mini festivals where all the communities it supports in that city join together. Here communities, influencers, organizations,  and general public that support our mission join us for challenging, centering, and celebration!
Once per year Desert Canvas host a multi-day international festival where all cities participating in Desert Canvas join with their communities to co-create!
Because our Desert Canvas community ranges from tech startup entrepreneurs to yogis teaching mindfulness meditation, we can help create communities that challenges, inspires, innovates, and brings positive healthy change to our city.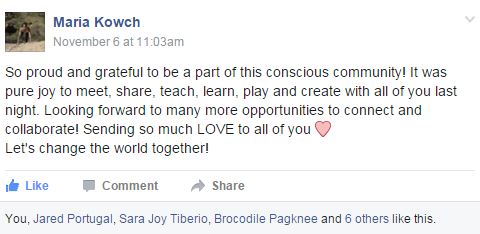 To unite us, we co-create a canvas.

Over the course of a year 11 canvases will be developed at our quarterly festivals, each with a separate meaning…leading us to our 12th and final canvas.
Our 12th canvas will be celebrated at our international multi-day festival! This is where all cities participating in Desert Canvas would join to share their first 11 canvases and help co-create the 12th. 
Here are a few pictures & videos from past Desert Canvas festivals!
Phoenix Rebirth Festival January 2015
Vanessa leading a yoga class for the local Phoenix community!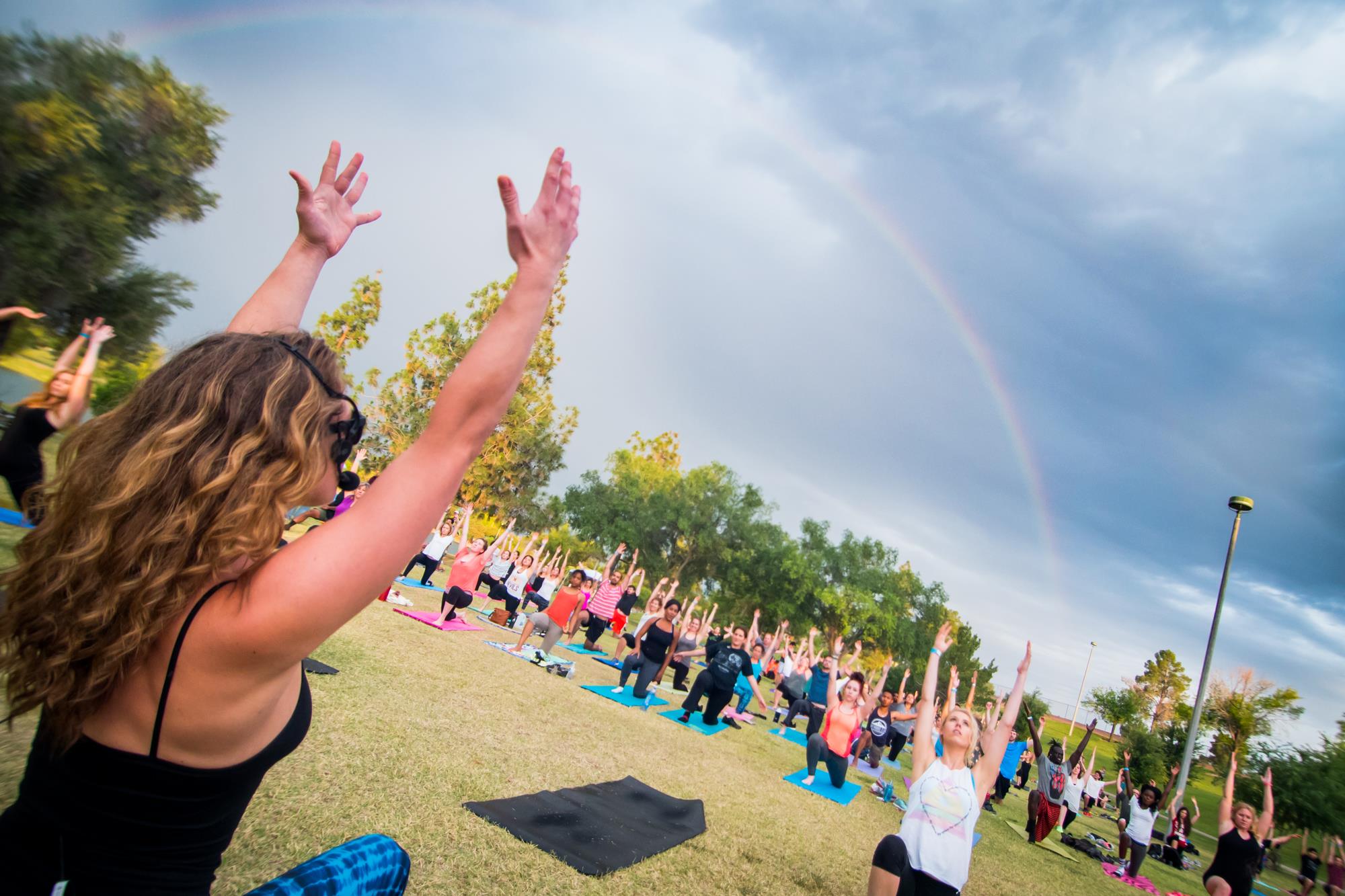 Munduzer 2016 Festival 

What can you do?
Okay, so now you've read this entire article. What's your takeaway?
Our suggestion: embrace co-creation and community.
The sooner you accept that you can't do everything on your own, the better off you'll be. You'll start figuring out your specific strengths and talents, and noticing the talents of others. You'll build stronger relationships, and make things happen that are bigger than you could have ever imagined.
And who knows? Maybe you, your friend, and your idea will be the spark for an entirely new movement that could change the world as we know it.
Subscribe below and join our community!