Take a mental trip with me for a moment. Imagine that you're in a car with your closest friends, and you arrive in a desert parking lot in Bradley, CA. Imagine setting up your tents on gorgeous grounds, surrounded by flowers and trees.
You have a four-day festival pass wrapped around your wrist, and you can take your pick–will you spend time in the intimate Village, learning about earth-based wisdom? Will you explore one of the many immersive environments, like an old-fashioned "jive joint" or a glamorous "casino" performance?
And then imagine it goes even further. The grounds are clean. The water is free. You can take cooking classes, you can dance the night away to your favorite musical artists, and the festival is environmentally friendly.
Seem impossible? Well, I've got news for you–this is exactly what happens at DoLab's annual Lightning in a Bottle festival (LIB).
LIB was loosely founded in 2000 by Dede Flemming and his brothers, otherwise known as the collective DoLab. Dede describes the festival as coming into existence organically. "We started with the intention of creating a unique festival by bringing different elements you don't typically see at other festivals," Dede notes. "We invited guest speakers for things like sustainable gardening or how to clean your home with sustainable products. We started with a similar vision but no real focus. We're essentially making this up as we go."
This year, the festival takes place from May 25th to May 30, with 4-day weekend passes going for a somewhat-reasonable $250. Keep in mind, that price gets you into the parking lot, and allows you to set up a tent anywhere on the festival grounds.
If you want to camp in your car or RV, you'll have to fork over an extra $120. There are also layaway installment tickets available, so you can pay a little bit at a time.
A Variety of Environments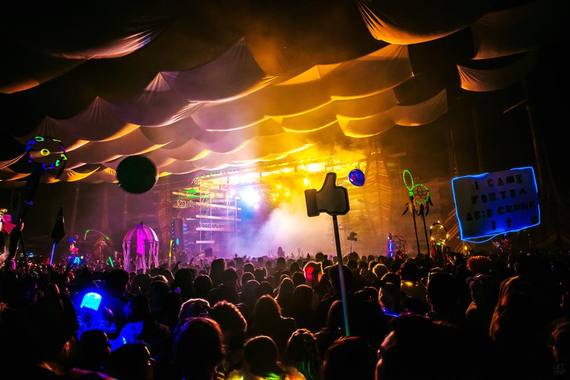 Photography by Lightning in a Bottle 
Lightning in a Bottle provides are so many different venues, all designed to help you grow as a person and really connect with the other festival-goers. (These are also all musical performance spaces, in addition to other activities and workshops!)
There's the Temple of Consciousness, described as "a sacred refuge devoted to crystallizing our understanding of self, health, science, ecology, spirituality and the mystical." It's focused on creating a "positive transformational shift." If you're looking for meditation or yoga, this is likely where you will find it.
"We added meditation in [the] 2nd or 3rd year because Jesse Shannon (Director of Marketing & Communications at The Do Lab) got into meditation," Dede comments. "[He] introduced it into the festival."
Step away from the Temple and you'll find The Village, an experiment in culture designed for attendees to learn and "be engaged with how to actually create and sustain a Village…how to bring [village life] into a contemporary context." It centers around sustainability and earth-based wisdom traditions, and even includes micro-environments with names like the Sacred Fire, Ancestral Arts Arbor, Community Lodge, Witch's Hut, and the Permaculture Action Hub.
The Learning Kitchen is more of an activity than an actual venue, considering that it will be hosted in the Temple of Consciousness. It combines ancient and modern kitchen traditions, allowing "amateurs and seasoned cooks alike" to experiment with "culinary techniques and the fundamentals of health, in order to cook with joy and confidence."
A Commitment to Art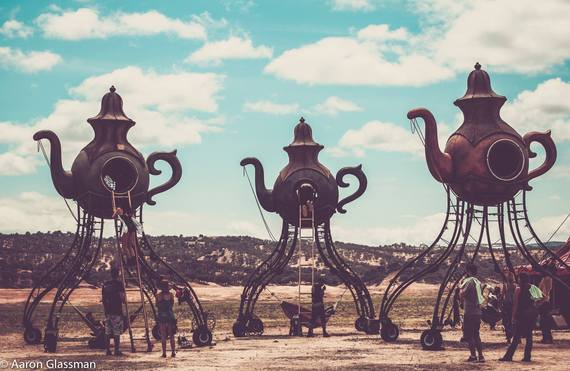 Photography by Lightning in a Bottle 
Aside from the fascinating and diverse micro-venues, LIB also offers a wide variety of art-based experiences.
Lightning in a Paintcan is something that resurfaces year after year, in which visitors can watch hand-selected artists paint live–both wooden panels, and 8 large-scale mural works.
There will also be art installations, largely funded by a branch of DoLab called the Do Art Foundation. As described on LIB's website, "Installation art is an integral part of the Lightning in a Bottle experience. We encourage you to take time out to explore, experience and gather inspiration from the installations, which range from smaller interactive pieces to larger-than-life sculptures and architectural pieces." One of the past projects included massive, fantastical teapots elevated high off the ground on spindly and organic legs, inviting visitors to climb up and experience the festival from an entirely new perspective.
Installation art can also take the form of immersive environments, and that's exactly what's happening at the Grand Artique for the 7th year in a row. They will be bringing back to life "their town of Frontierville, a fully immersive Trading Post/ General Store, hotel, gypsy encampment and a heavy hitting music line up that will have you ripping up the dance floor deep into the night."
And then, of course, what would festival art be without community-made goods to peruse and buy? LIB's Marketplace has you covered, as it boasts top vendors and unique, high-quality festival gear.
An Ethical Experience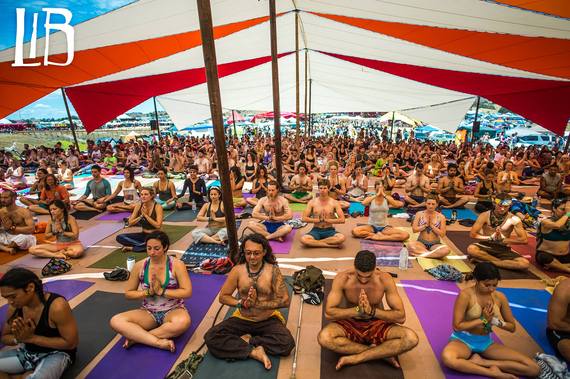 Photography by Lightning in a Bottle 
Here's where it starts to get really exciting. LIB is committed to lowering their carbon footprint in multiple ways. First, they insist that visitors carpool–single-occupancy vehicles get charged $30. Second, they use LEDs and compressed fluorescent lights whenever possible, and then maximize their renewable energy fuel sources, including biodiesel, solar, and wind. Their website notes, "Biodiesel runs our light towers, generators, camping shuttles, and crew vehicles."
They even offer an "environmental lineup of workshops" that teaches patrons how to lower their resource use and grow their own food–in an easy, low-cost way. LIB is all about "making it fun, easy and sensible so you can try it all at home!"
And then, of course, you get free water. You can either bring a water bottle or purchase a reusable one there, but either way, you can refill your bottle at filtered water stations around the festival. Incredible!
Aside from environmental concerns, though, LIB is also big on safety and harm reduction. Instead of using typical festival tactics of trying to confiscate drugs, they have a room where visitors on a bad drug-trip can go to calm down. Dede Flemming says on this, "We're zero-tolerance, but that's simply not possible; you can't even prevent that at a baseball game! We prepare for reality so everyone is safe, healthful, and leaves alive."
Finally, LIB makes clear (multiple times on the website alone) that headdresses are not to be worn, putting this festival in stark contrast to Coachella or other large music festivals. They speak about cultural appropriation and respect for Native Americans–a refreshing thing for anyone to see.
Conclusion
Lightning in a Bottle sounds like a wonderland of bright new ideas, and transformational experiences in a corner of California worth visiting. If you're reading this and feeling it tug at your heart, don't wait. Jump into it. See who you become.